Pellet grills have been all the rage for the past 5-10 years in the outdoor cooking market. It seems like everyone has one now, and even Weber has recently joined the pellet grill game with their new SmokeFire pellet cooker.
Note: Some of the links in this article may be affiliate links. This doesn't cost you any more than normal. Read our disclaimer for more info.
What's interesting though is how Masterbuilt is bringing the ease of use of a pellet grill while utilizing charcoal for fuel instead of wood pellets.
It's called the Masterbuilt Gravity Series of smokers, and it's a digitally controlled charcoal grill smoker that's as "set it and forget it" as a wifi and bluetooth pellet grill. Have I peaked your interest? I know they peaked mine the first time I saw it.
What is this new Masterbuilt Gravity all about?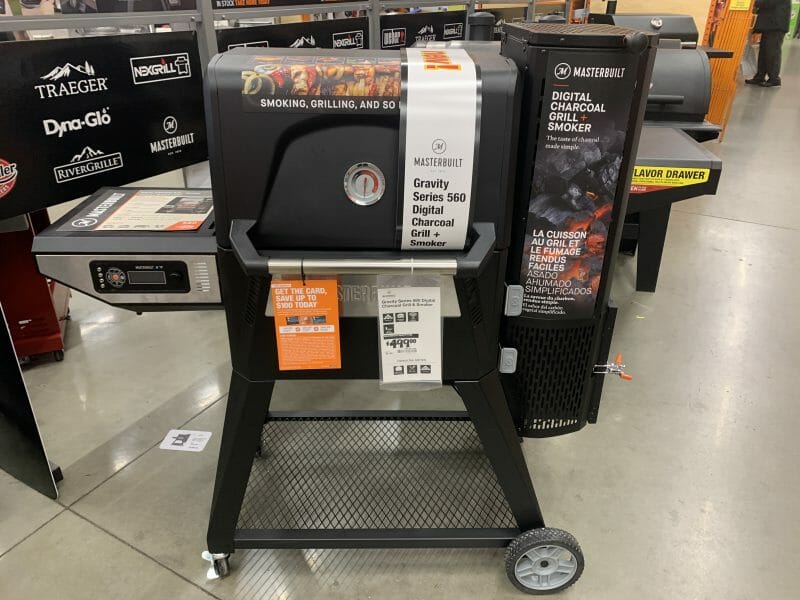 Gravity fed charcoal grills aren't anything new in the market, but until now they have been reserved for those who want to spend a whole lot more money.
Gravity fed grills have been in use in the competition circuit for many years, and manufacturers like Stumps, Assassin and T&K have been offering gravityfed smokers for many years. Their price tag is what's different here with most of their units starting well over $1,000 each. Larger models can easily reach into the $3,000-$4,000 range, so these aren't exactly mass produced grills for the everyday backyard cook.
This is where Masterbuilt comes in and changes the playbook. With this series starting at just a shade under $500, this is a smoker that hits a price point that can be offered in big box stores across the nation. The question is, "Did they leave enough grill in the design for it to be worth our time when they set out to hit the $500 price point?"
Competitors to the Masterbuilt Digital Smoker
It's hard to find a competitor to the Masterbuilt Gravity smoker at the time of this writing. They're really the first to attempt to bring gravity feed technology to the backyard chef at an affordable price point.
Our friends T&K smokers that manufacture just down the road from The Barbecue Lab offer their entry point small gravity feed for $2,499. They're absolutely a work of art, but cost 5x the price of the Masterbuilt we're looking at today.
If you're a competition cook who's looking to dominate the local KCBS weekend BBQ competition, you'll most likely take something from T&K instead of this Masterbuilt unit. For the rest of us who are competing against ourselves cook after cook in the backyard, this Masterbuilt is designed for us.
What are the dimensions of the Masterbuilt Gravity Feed?
This charcoal grill smoker measures 52″ tall, 54″ wide, and 24 1/2″ deep. The unit weighs just a hair under 147lbs.
Cooking Space:
The cooking area on the smoker measures 20 x 15 inches with an upper grate size of 7 x 15 inches. The upper rack is really designed more as a warming rack when grilling or as a second shelf when smoking indirectly.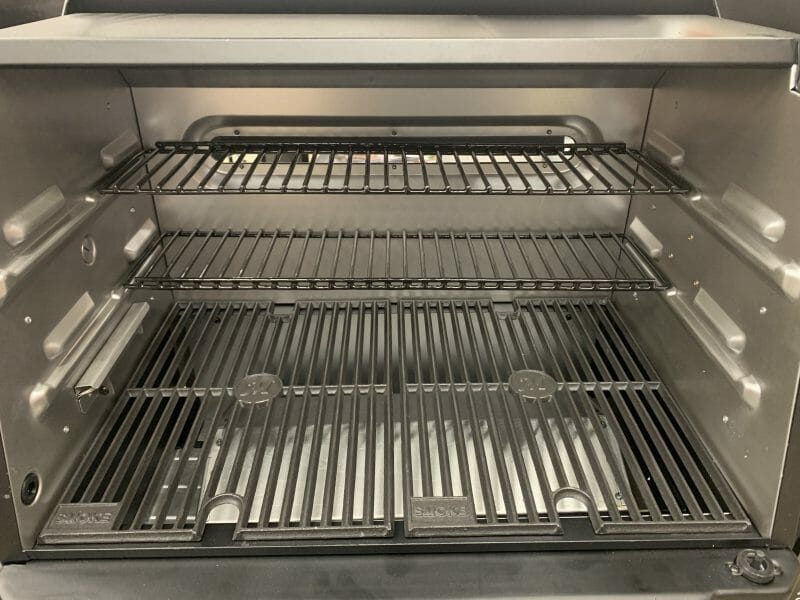 The cast-iron grates are reversible with one side designed for indirect smoking and the other for high heat grilling. You'll find 560 square inches of cooking space in this unit.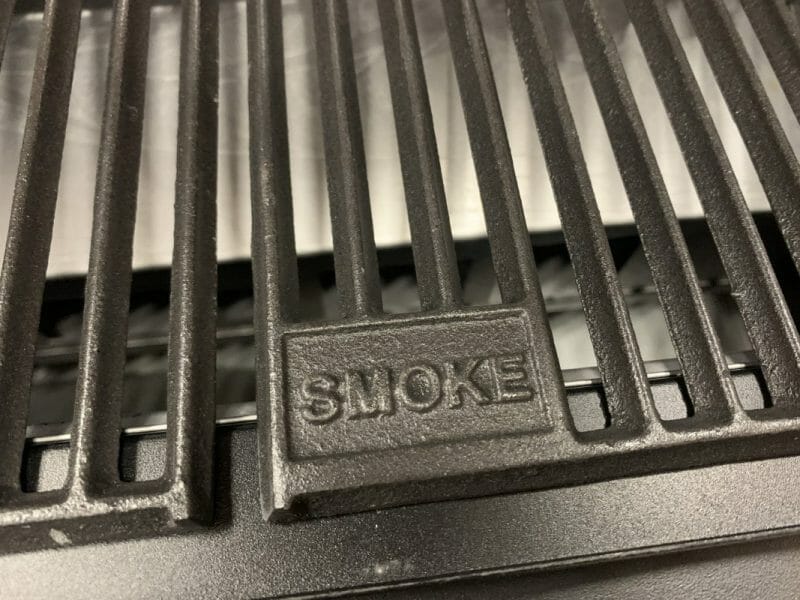 Functionality:
This charcoal grill smoker is designed to smoke low and slow, but that's just the tip of the iceberg. With a cooking temperature as high as 700°, it can easily grill and sear.
Baking and roasting isn't out of the question either, and with the cooking temperature being controlled by a digital control panel, the sky's the limit.
Food Capacity:
Masterbuilt says that their 560 model has a capacity of 4 racks of ribs at a time using the supplied cooking grates. That also works out to about 8 chickens or 21 burgers at a time. If it's sausages you're grilling, it can hold up to 37, and hot dogs, well, we're guessing around 7 packages at a time wouldn't be a problem. You'll have the kiddos eating in no time.
Durability:
This charcoal grill smoker boasts an enameled steel construction on the exterior. There's an expanded metal storage rack underneath the grill between the wheels that can be used for bags of charcoal.
When it comes to the seals on the cooking chamber, we find this model to be better than most. Like most smokers, we want the smoke to stay in the chamber as long as possible to get deeper smoke rings and infuse that smokey goodness into our meat.
Since this unit operates largely like a pellet grill, keeping smoke in the chamber isn't of primary concern. The gravity series vents out the back of the grill, so there's no forcing smoke to stay in longer by using high temperature Permatex on the door. The unit is self contained and doesn't need any modifications to increase the smoke penetration.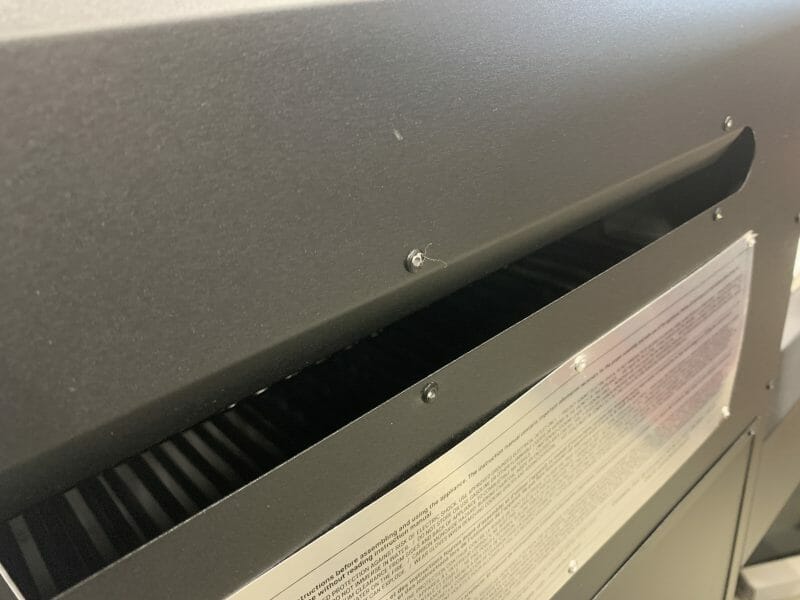 Temperature Range:
The grill has a range of 225° on the low end and 700° on the high end. It's selectable in 5° increments from the temperature control panel, and the onboard fan/controller combo do all the work of maintaining the temperature.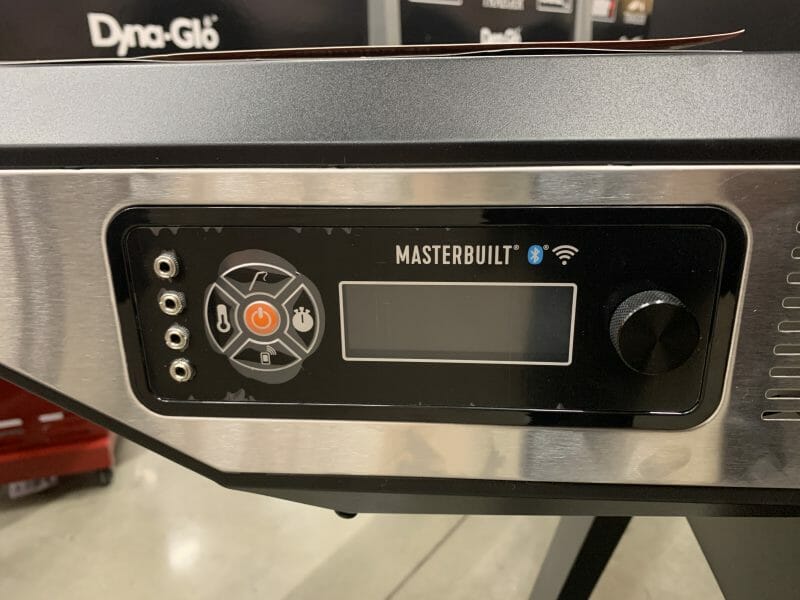 Lighting the Masterbuilt Gravity 560:
In order to light the grill, you can use any number of firestarters to get things going. There's a space at the bottom of the gravity fed chamber to place either a lighting puck or Weber lighting cube to get the party started.
You could also just as easily wad up some newspaper and push it into the opening to fire things up, but we find that if newspaper is the way you're planning to go, drizzle a bit of vegetable oil on there first to make sure the coal catches fire before the newspaper goes out.
Direct Sear:
This charcoal grill smoker is built to handle both low and slow cooks and high heat searing. Crank up the grill temperature to land on 700 degrees, and the entire cooking surface of the grill becomes a searing utensil.
Temperature Probes:
There are 4 ports for probes on the temperature control board, and the grill ships with 1 probe with additional available for order on the Masterbuilt website.
Portability:
You'll find that moving this charcoal grill smoker around is relatively easy. There are two 8″ wheels on the back of the unit and two 3″ locking swivel casters on the front. The swivel casters are located on the side of the grill below the handle, so pulling the grill around on flat surfaces should be a breeze.
Assembly:
Assembling the grill will take between 1 1/2 hours to 2 1/2 hours. We wouldn't call this assembly process easy, but as long as you have a bit of patience, everything goes together quite nicely.
Ease of Use:
It's hard to think of a way that this charcoal grill smoker could be easier to use. To set the temperature, just dial in the temp that you want on the digital temperature control and wait between 7-13 minutes. It takes 7 minutes to get to a consistent 225° and 13 minutes to achieve a roaring 700°.
Side Shelf:
Just above the digital temperature control and thermometer ports is a side shelf that can easily be used for food and tools during your cook. If there's one feature that I miss on any grill, it's not having enough flat surface that I can utilize during a cook.
The size of the side shelf on the 560 gravity series is about a foot square, and it's more than ample to hold a cutting board full of meat that you're loading on to the grill.
Cleaning:
Like any grill, it's going to require a good cleaning every now and then to maintain the unit over the long term. The grill grates come out and can be washed in the kitchen or utility sink for easy cleanup.
Cleaning out the ash tray after every cook will inevitably help keep your tray from rusting out. It's a simple process or pull the tray and empty, but make sure to do it when all of the coals and ashes are cold. It's recommended to put the ash in aluminum foil and pour a bit of water on them before placing in a waste bin. Safety first, right?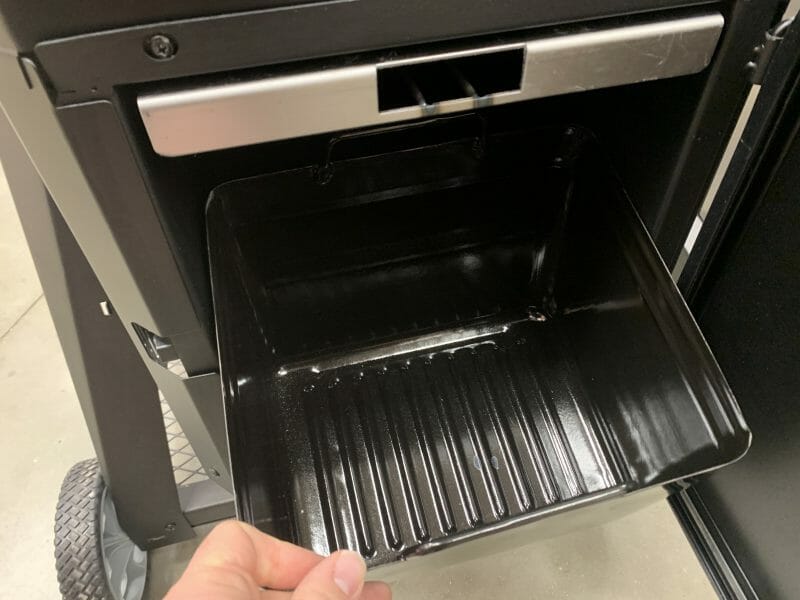 Charcoal Hopper:
The vertical charcoal hopper is designed to hold over 12 hours of briquettes. The hopper will hold about 10lbs of lump, give or take the size of the lump charcoal that you're using.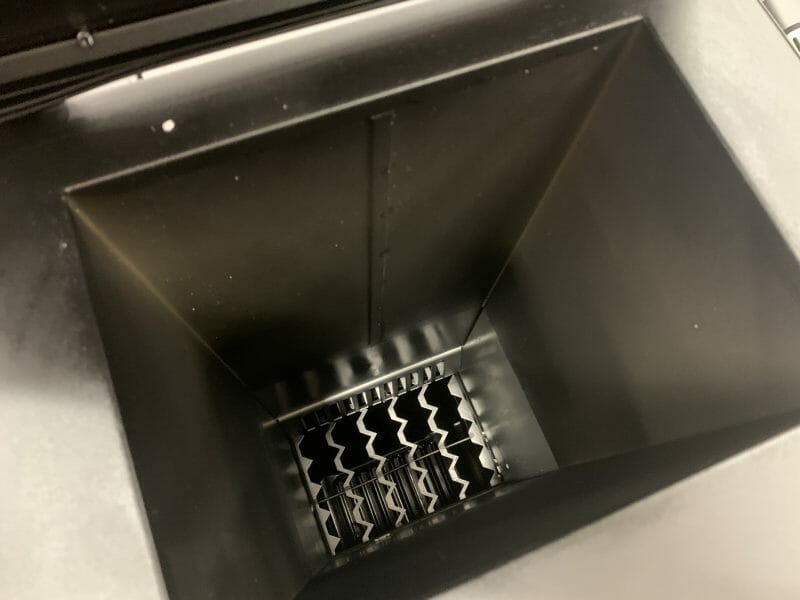 It can also accept right around 16lbs of briquettes depending on the size and brand. We've heard that users have gotten up to 15 hours of burn time for low and slow cooks using briquettes, but you can always add more charcoal during a cook as the need arises.
The charcoal reservoir is designed with two baffle plates to shut off the supply of oxygen at any point when you're done with your cook. By sliding the two plates into the closed position, oxygen will be cut off from the fire, suffocating the fire and beginning the cooling process.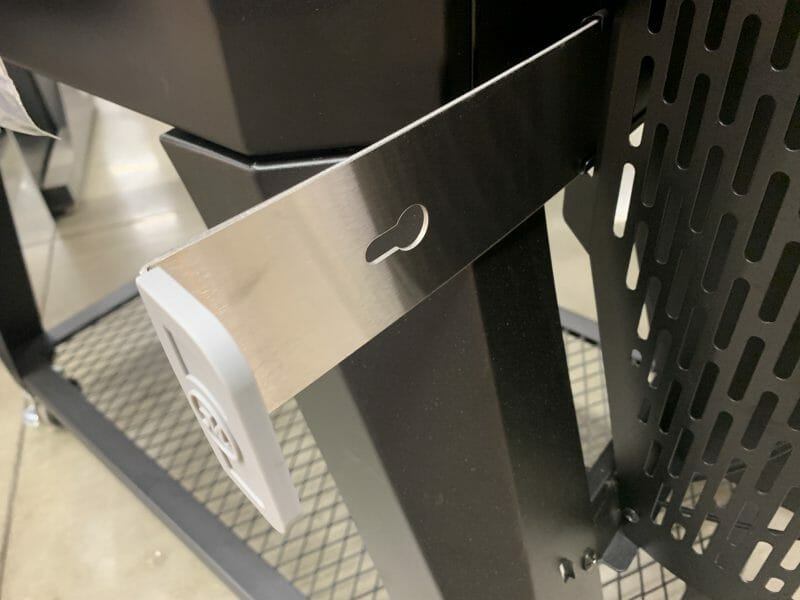 These baffle plates mean that you'll be able to reuse the charcoal in your hopper for your next cook. Even the briquettes or lump that were lit at the time you shut off the supply of oxygen will cook down and be ready to use the next time you're ready to fire it up.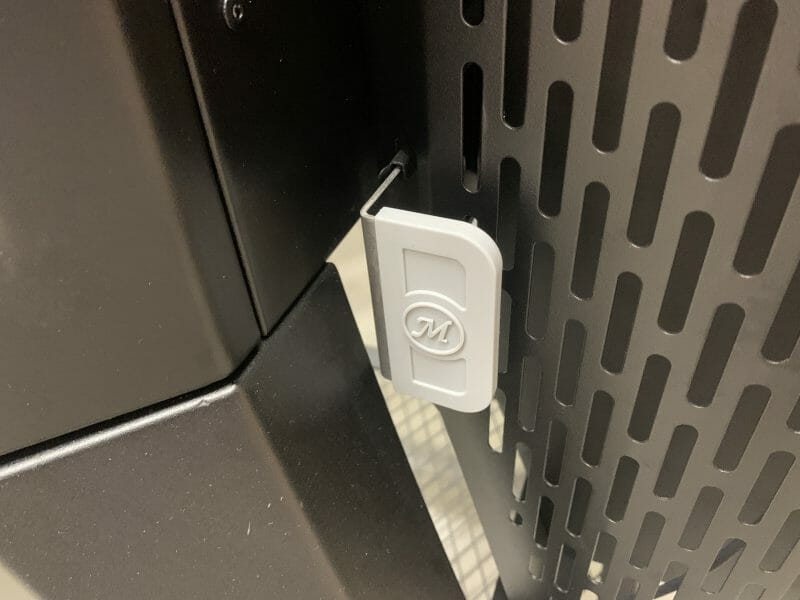 Additional Accessories:
Items that aren't included with this grill when it ships include a cover and additional temperature probes. Of course, you might need some utensils to move meat around and clean the grill, but you probably already have those laying around the garage already, right? If you don't, check out our gear guide here for the best accessories for your grill.
WIFI & Bluetooth:
The Gravity series 560 has a shiny new digital controller that allows you to control everything about your cook from the digital interface. The digital temperature control is also connected to both bluetooth and Wifi to allow you control from your smart device when you're not standing right in front of the grill.
You can control both temperature and cook time from Wifi and bluetooth, which means that you can control everything you need on the grill even when you're down the street partying it up with the neighbors or at a soccer game hours before dinner.
It's this kind of connectivity that we crave in this new breed of grills. Having the ability to control our cook from a smart device while we're watching the game or even away from the house is incredibly convenient. It's almost taking the challenge out of producing mouth watering barbecue, but is that a bad thing?
There's also an analog thermometer mounted in the lid of the grill, but you won't find specific temperatures on this thermometer. Functional ranges like grill, sear or smoke can be found on the lid thermometer, and it makes sense because of the digital controller a few feet away telling you exact temp.
Warranty:
This charcoal cooking grill has a limited 1 year warranty on all parts. We've reached out to Masterbuilt to clarify if anything on the grill is covered for more than a year, and will update after we get a response.
Price:
The Masterbuilt Gravity is available for $497, and can be purchased here.
Closing Thoughts:
The Masterbuilt Gravity 560 is a great blend of convenience and function at a price that's hard to ignore. There aren't many grills that we can compare this to without moving into professional models designed for the competition circuit, and we love that there's a gravity feed grill available for the rest of us.
Would I purchase this grill? Absolutely, and I plan to. I can't wait to put this unit (or even the larger one rumored to be coming out this Spring) to the test and show you guys what it can do.
Here at The Barbecue Lab, we review gear just like this to help keep you from investing in bad bbq gear that won't get the job done for you.
Over the years, we've bought our share of worthless barbecue gear that brought more frustration than good eats, and our mission is to help you identify the good ones.
You can support us by clicking on the links in this article before you make a purchase, and Amazon will share a portion of the profit with us so we can buy more gear to test.
It doesn't cost you anything more. Huge companies like Amazon and Walmart will share a small piece of the profit with us, so they make less and we get to keep helping you know the best gear in barbecue.
Smoke on my friends.